If America can beat Canada to decriminalizing Marijuana
Canada can beat Mexico to becoming aNarco State
then maybe Mexico will beat America to True Democracy
Now that's what I call Healthy Competition.
Serious Questions for Mexican Gangsters
Why are you in this Business?
Do you enjoy being in a violent gang?
Which is more important to you? – money? – what money can buy? – what money can't buy?
Do you believe in God?
Do you believe in Karma?
What do you think of the violence perpetrated by drug gangs in Mexico?
What do you think of the violence against women in Mexico?
If given the choice would you prefer to have you and your businesses be hounded by the state or accommodated by the state?
Would you like to see the Mexico/USA border deregulated?
Do you believe good sex and a condescending attitude towards women generally are compatible?
Do you believe there is a connection between how a gangster treats women and how successful he is in his career?
Do you think it is possible to traffic drugs ethically? If yes or no why so?
Do you think it is possible to pimp sex-workers ethically? If yes or no why so?
Do you think it is possible to deal death ethically? If yes or no why so?
Do you think what makes a gangster powerful and gives him longevity in the game is how vicious he is or how ethical he is?
Which is more important to you? – how men see you? – how women see you? – both equal?
If Western Canada were willing to provide safe haven for drug money and drug dealers would cartels be willing, in exchange, to punish anyone in Mexico known to be violent against women and civilians? Would you consider this a fair exchange?
If Mexico founded its own Utopian Anarchist Gangsters&Black-Market Human Rights 'Fun Party' how successful do you think it would be in the polls?
Do you think cartels would make more or less or the same money if cops stopped harassing drug smugglers simply for being drug smugglers and focused instead on product tampering, sales to minors, and violence against civilians?
Do you think it's fair civilians take black-market recreational drugs but it is the traffickers who are persecuted? Which do you think is more offensive – being a drug-dealer or being a hypocrite?
Why do you think there are so few high-level female gangsters?
What would a woman have to do for you to consider her your equal or even your superior in the game?
What does your ideal relationship with Canada and Canadian organized crime look like as a Mexican organized criminal?
What does you ideal personal and professional life look like as an organized criminal?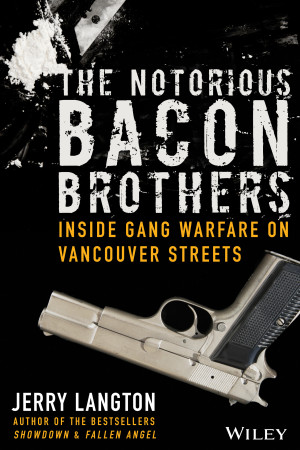 a Mexican Drug Trafficker told
The Dallas Morning News
:

"Sometimes, when you cross a shipment of drugs to the United States, adrenaline is so high that you want to celebrate by killing women."
Dear Kim Bolan
Thank you for your coverage of the Sinaloa and La Familia Cartel's arrival in Vancouver (
Part One
and
Part Two
). My name is Andrea Coates and I am what you might call an organized crime buff. I founded @FunParty the world's first ( I know of )
Gangsters&Black-Market Human Rights
Political Party. One of many aims @FunParty is to determine if a radical new attitude to organized crime results in a decrease in violence perpetrated by and towards
black-market professional drug-traffickers, sex-workers, and death-dealers aka gangsters. Holy wow brilliant idea I'm suggesting with my party is being nice and friendly ( very very very friendly indeed ) with the gangsters on condition of their respectful behavior in this country and elsewhere. While I do not expect overnight Canada's police and politicians and public will change their attitudes towards the black-market and those who work it I can ( perfectly legally I think ) conduct an open experiment to see if a firmly empathic feminist approach to organized crimiinals personally results in less deaths in gang wars, less violence against women by male gangsters, and better quality of drugs and trafficking businesses. It seems to me from all I have read and the movies I've watched about gangs and gangsters and all I have experienced as a sex-worker
the problem with gangsters in society
isn't that they deal drugs, or pimp women, or even that they kill each other ( activities they are usually persecuted for ), rather
that gangsters are often misogynistic
, but this problem of sexism is equally prevalent among police, giving police little moral right to persecute gangsters. I think a person can deal drugs, pimp women, and even kill people ethically. No one can be an ethical misogynist, even if they never break 'the law', and therefore the social issue to address in 'organized crime' is not the 'organized crime' per se but rampant misogyny among organized criminals personally and those who police them personally. I think if organized criminals were feminist allies and responsible businesspeople communities wouldn't mind them around and gangsters could go on trafficking drugs and pimping women and killing one another and it wouldn't be a nuisance, it would be something fun to watch on TV, and barely any gangsters except for those who really deserve it ( because they kill civilians or sell tainted drugs or rip people off or beat women ) would have to go to prison. I am a utopian anarchist and I think a society scrubbed clean of its organized criminals is not only impossible but boring. Canada @FunParty without gangsters? Nah. So I will try getting cozy and preaching the gospel of feminism as the price of sex to the thuglies and the police can try to put the Mexican and Canadian black-market entrepreneurs in jail and ruin their businesses and we will see who gets more done in this country and internationally and to what ends.
Yours Truly
Andrea Coates
Founder:
Sociopathic Gangsters: empathize with them for they are Lonely
because they (and their Dads) are
Sexist
The cocaine trafficker, if that's what you happen to be into like some people are into amputees or midgets or housewives or nymphets, even if he doesn't take cocaine behaves like he takes cocaine. He is a tense paranoid sporadically-violent anal-retentive pathologically-lying sociopath alpha-male with a delusional power complex, numb extremities, and erectile dysfunction. I feel sympathetic towards him. I think the drug-lords need to relax and put down the gun. I have more sympathy for cocaine traffickers than most police and most civilians. Because cocaine traffickers are maniacal greedy alpha-males they must acquire topnotch trophy bitches wherever those 10s be at. Law of attraction. Unfortunately for the patriarchal drug-lord the only kind of woman can handle a LTR with a drug-lord is more delusional than he is and coveted by every other drug-lord in the world ( she is Carmen Sandiego the Jewel Thief and where will she turn up next! ) so emotionally-cowardly drug-lords focus instead on marrying ignorant sequestered beauty queens and fucking discardable pin-up hookers and trying to be satisfied with lots of money. Hahahaha. Good luck with that boys. Such drug-lords usually wind up dead or in jail. In my experience the cocaine trafficker avoids the kind of woman could actually satisfy him in his violent powerhungry illusions of triumphant phallic manhood, witch is the kind of woman who points at a cocaine trafficker and laughs at him for being uptight and stupid, which is so emasculating, and why he took up being a gangster in the first place – to avoid being laughed at for being uptight and stupid in his efforts to appear manly and worldly and dangerous. What a paradoxical conundrum for the fully-loaded cocaine trafficker. How will he solve this puzzle with his criminal noggin or his gun or whatever.